Warehouse management systems (WMS) are essential tools for businesses of all sizes. They help to streamline operations, improve efficiency, and reduce errors. However, a WMS is only as good as the data it is fed. Without accurate and timely data, it is impossible to make informed decisions about inventory management, order fulfillment, and other critical aspects of warehouse operations.
This is where analytics and reporting come in. Analytics and reporting tools can help businesses to extract insights from their warehouse data. This information can then be used to improve decision-making, identify areas for improvement, and track the performance of warehouse operations.
Analytics and reporting tools play a crucial role in extracting insights from vast amounts of data and presenting them in a meaningful way. In this blog post, we will explore four popular analytics and reporting solutions: SSIS, SSRS, Crystal Reports, and Highjump Pulse.
1. SSIS (SQL Server Integration Services):
SSIS, developed by Microsoft, is a powerful data integration tool that enables the extraction, transformation, and loading (ETL) of data from various sources into a centralized data warehouse or database. It provides a graphical interface for designing workflows and data transformations, making it user-friendly for developers and data analysts.
SSIS offers robust connectivity options, allowing seamless integration with various data sources, such as databases, flat files, and cloud platforms. It supports complex data transformations, including data cleansing, aggregation, and enrichment. The tool also provides advanced features like error handling, logging, and scheduling, which are essential for maintaining data integrity and automating data workflows.
2. SSRS (SQL Server Reporting Services):
SSRS, also developed by Microsoft, is a comprehensive reporting platform that allows users to create, manage, and deliver a wide range of reports. It provides a user-friendly report design environment, enabling the creation of pixel-perfect reports with rich formatting, charts, and interactive elements.
With SSRS, users can generate reports from various data sources, including relational databases, multidimensional cubes, and data models. It supports a variety of report formats, such as PDF, Excel, and Word, making it easy to distribute reports to stakeholders. SSRS also offers robust security features, allowing administrators to control access to reports and data.
3. Crystal Reports:
Crystal Reports, developed by SAP, is a popular reporting tool widely used in enterprise environments. It provides a flexible and intuitive report design interface, empowering users to create visually appealing reports with dynamic content, charts, and interactive elements.
Crystal Reports supports a wide range of data sources, including databases, spreadsheets, and web services. It offers powerful data manipulation capabilities, allowing users to sort, filter, and summarize data within reports. The tool also provides advanced features like sub reports, drill-downs, and parameterized reports, enhancing the interactivity and usability of reports.
4. Highjump Pulse:
Highjump Pulse is a modern analytics and reporting solution designed specifically for supply chain and logistics operations. It integrates with Highjump's warehouse management system (WMS) to provide real-time visibility into critical operational data.
With Highjump Pulse, users can monitor key performance indicators (KPIs), track inventory levels, and analyze operational metrics through interactive dashboards and reports. The solution offers pre-built templates and customizable reports, allowing users to quickly access the insights they need. Highjump Pulse also supports mobile access, enabling users to stay informed and make informed decisions on the go.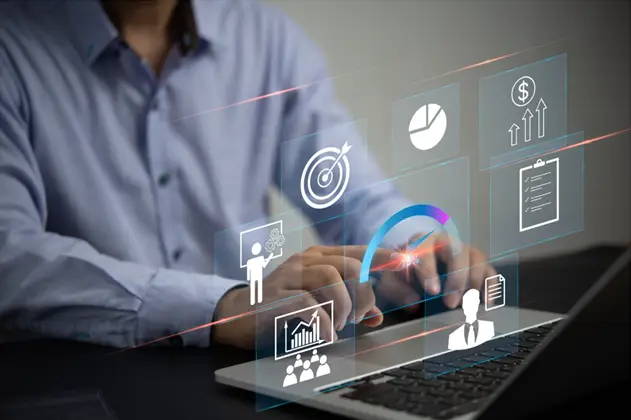 In the rapidly evolving world of supply chain and logistics, the ability to access accurate and actionable insights is paramount. With our expertise in SSIS, SSRS, Crystal Reports, and Highjump Pulse, we enable businesses to unlock the power of their data and drive operational excellence. By partnering with us, our clients gain a competitive advantage through enhanced visibility, streamlined processes, and informed decision-making.
As a Highjump WMS solutions provider, our commitment extends beyond implementing these tools. We strive to understand the specific requirements and challenges of our clients, providing tailored solutions that address their unique needs. From data integration to report design and implementation, we offer end-to-end support to ensure our clients maximize the value of these analytics and reporting solutions.